Artists in Conversation is Tara Gallery's interview series with various Iranian artists who are working from Iran and abroad. For the first of this series, we ask artist Arman Yaghoobpour to discuss his views on art.
We genuinely love to hear your thoughts so post some comments and let us know what you think!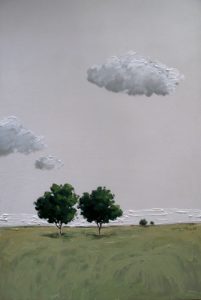 Tara Gallery: Why is art important?
Arman Yaghoobpour: Throughout history, art has been defined in many ways, but the reality is that every time we try to define art, we have destroyed it and have been accused of being ideological. Art is indefinable; every time we define it as one thing, we are over looking its other meanings and its impact – which is as vast as life itself. This all-encompassing importance causes art to be valued from any standpoint.
TG: How do artists perceive life?
AY: An artist sees life through the culture that has formed him. Thus, the definition of culture varies from person to person and for each artist, life holds a different perspective.
TG: What is the most memorable response to your work you've heard to date?
AY: Everyone describes my work as simple and refined.
TG: What is your favorite kind of art?
YA: Painting first, then music.
TG: Who is your favorite artist?
AY: I like many different artists from many different fields, but if I had to pick a painter, I am most interested in Mark Rothko.
TG: What is your style of work?
AY: Perhaps constraining art with specific styles and defining the essence of it is wrong in and of itself. Regarding my work, I started with impressionism and moved towards minimalism and expressionism.
TG: Please tell us a little about your work.
AY: My work mostly reflects themes of nature and as my audience likes to say, it is simple, as I believe beauty is in simplicity.
TG: How has your work evolved over the years?
AY: The transformation of my work is due to lots of practice, understanding of life and defining it for myself.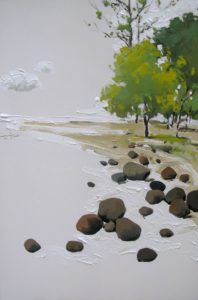 TG: What medium of art do you most identify with?
AY: Definitely painting.
TG: Tell us a little of your educational and artistic background.
AY: I have a Bachelor's and Master's degree in Painting, and a Ph.D in Art Research. I am also a member of the University's Science Council and the Dean of Neyshapour University's Art College.
TG: What is most integral to the work of an artist?
AY: Honesty.
TG: What is the artist's role in society?
AY: The artist's role in society depends on his way of thinking. Thus, the artist has no specific role because the meaning and perspective towards life is different for each artist.
TG: What inspires you the most?
AY: Nature.
TG: Should the arts be funded?
AY: Yes.
TG: How does funding affect art?
AY: That is to say, to what extent should financial support interfere with the work of the artist? If an artist accepts the role of financial support in creating art, it will have a key affect on his work.
TG: What is the biggest issue facing the artist of today?
AY: An artist is a member of the society at large and the problems they face are the same problems every one faces.
TG: What effect do you hope your art has on the world?
AY: You must provide a fresh outlook on life.
TG: What suggestions or advice would you give to a young or upcoming artist?
AY: Persevere.

To view current available works by Mr. Yaghoobpour, please visit our Catalog.