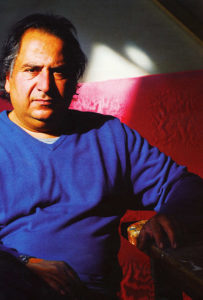 Mostafa Dashti has devoted many years to exploring the communication on canvas. He has studied painting and calligraphy under the tuition of Aidin Aghadashlou, the late Seyed Ahmad Abtahi, and Abdulah Faradi.
His early work depicted powerful desert scenes. This relationship with landscapes, whether natural or human created, has continued over the years and is still apparent in most of his work today.In recent years he has used a more abstract mode of communication and some of his work have indeed been abstract compositions. He has also preferred the use of darker colors.
Mostafa Dashti has been dedicated to communication through painting since 1984. His deeply thought provoking and emotional work has appeared in exhibitions and displays throughout Tehran.
Mostafa Dashti has always been the eulogist of the great painters of the world.
The root of all my paintings is in nature—sky, earth, clouds and even meteoroids. Every time I painted a subject, every element on my canvas could be traced to something in nature and the presence of these nature's figures proves that I am not an abstract painter. Of course in some of my works, where everything including forms and figures become more condensed, a silhouette of pure abstraction crystallizes.
Mostafa Dashti | Iran, 2011
Born
Khash, Baluchestaan province, Iran – 1960
Selected Solo Exhibitions
2013 Mah Art Gallery, Tehran, Iran
2011 Art Center, Dubai, UAE
2011 Henna Art Gallery, Tehran, Iran
2009 Art Center, Tehran, Iran
2008 Mahe Mehr Gallery, Tehran, Iran
2006 Niavaran Cultural Center,Tehran, Iran
2006 Assar Art Gallery, Tehran, Iran
2006 Tarrahan-e-Azad Gallery, Tehran, Iran
2005 Assar Art Gallery, Tehran, Iran
2004 221 Gallery, Tehran, Iran
2004 Assar Art Gallery, Tehran, Iran
2003 Golestan Gallery, Tehran, Iran
2003 Artists Gallery, Tehran, Iran
2003 Niavaran Cultural Center, Tehran, Iran
2002 Karkhaneh Gallery, Tehran, Iran
2002 Artists Gallery, Tehran, Iran
1999 Niavaran Cultural Center, Tehran, Iran
1996 Mansoureh Hosseini Gallery, Tehran, Iran
1993 Hakim Nezami Gallery, Tehran, Iran
1993 Classic Gallery, Isfahan, Iran
1991 Classic Gallery, Isfahan, Iran
1991 Seyhoun Gallery, Tehran, Iran
1991 Mansoureh Hosseini Gallery, Tehran, Iran
1990 Azad Gallery, Tehran, Iran
1989 Mehr Gallery, Tehran, Iran
1989 Pafar gallery, Tehran, Iran
1988 Seyhoun Gallery, Tehran, Iran
Selected Group Exhibitions
2012 Leila Heller Gallery, New York,USA
2012 Mah Art Gallery, Tehran, Iran
2011 Mah Art Gallery, Tehran, Iran
2011 Hoor Gallery, Tehran, Iran
2010 Mah Art Gallery, Tehran, Iran
2009 Mah Art Gallery, Tehran, Iran
2009 Afrand Gallery, Tehran, Iran
2009 Galerie Almine Rech, Paris, France
2008 Golestan Gallery, Tehran, Iran
2008 Mah Art Gallery, Tehran, Iran
2007 Tarahan-e-Azad Gallery, Tehran, Iran
2007 Broken Promises, Broken Dreams, London,
2006 Seyhoun Gallery, Tehran, Iran
2005 Gallery Etemad, Tehran, Iran
2004 Golestan Gallery, Tehran, Iran
2004 Mah Art Gallery, Tehran, Iran
2004 Total Arts, Courtyard Dubai, Dubai, UAE
2004 Watercolour Painters of Iran, Museum of Contemporary Art, Tehran, Iran
2004 International Exhibition-Support of Bosnian Children and Women,Tehran
2002 Seyhoun Gallery, Tehran, Iran
2003 6th Painting Biennial, Tehran Museum of Contemporary Art, Tehran,Iran
2000 Iranian Contemporary, Christies, London, UK
1999 4rd Painting Biennial, Tehran Museum of Contemporary Art, Tehran,Iran
1993 1st Painting Biennial, Tehran Museum of Contemporary Art, Tehran, Iran
1991 Parkway Gallery, London, UK
1991 Khaneh-Kolangi Project, Contemporary Art Workshop, Tehran, Iran
1986 Khaneh-Aftab, Tehran, Iran