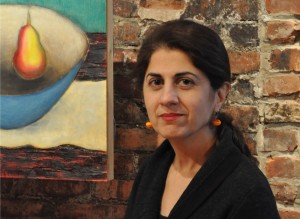 Marjan Nirou Saniee holds an MFA degree in painting from Pratt Institute, NY. She has exhibited in the New York Metro area. Her works are in private collections on both coasts. Her original style exploits the textural possibilities of wood resulting in a unique coming together of vivid colors, complex textures, and simple, abstracted shapes.
She has participated in numerous group and solo exhibitions, most recently a solo show, this past November at Artspace@MONDO, Summit NJ, and last July as a participant in the group show, Working it Out at The Painting Center, NYC.
Marjan Nirou Saniee lives and works in New Providence, NJ where two of her community art projects are permanently installed at the Borough of New Providence Municipal Center. She is a two time recepient of the Union County HEART Grant for her public art projects.