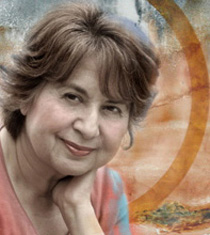 Dr. Bayesteh Ghaffary is a physicist, visual artist, and educator, living in Northern California. She holds a Ph.D. in theoretical physics having worked in several diversified fields of academia and industry including nuclear physics, biomathematics, and multimedia systems. Her art practice began with both digital and traditional mediums including sumei brush painting and ceramics, but over the past twenty years she has focused more exclusively on experimental printmaking techniques, which she calls hybrid art. Her artwork includes woodcuts, intaglio, monotype, silk-screen, and encaustic. Dr. Ghaffary's work explores cultural memory, her background in science, and the natural world – often in abstractions illustrating tension between color and line.
The works exhibited here are inspired by her memories of the intense sunlight, the bird migrations, and the vastness of deserts in Iran. These artworks are painted using several layers of intaglio ink on plexi-glass with brayers and palette knives. Layers of medium are then submerged under the magic of the printing press for pressure transfer to archival paper, creating each unique monotype artwork. Integral to the artwork are her custom metal frames, which she designs and fabricates for each art piece.
Gallery Exhibitions
Gallery North, Carmel-by-the-sea, Associate Member, Artist Member from 2004 to 2012,
Curzon Gallery, Boca Raton, Florida, Artist Member since 2003,
Seyhoun Gallery, West Hollywood,
Monterey Museum of Art, Monterey,
Downtown Art Gallery, Los Angeles,
33 Collective Galleries, Chicago,
Beverly Hills Art Center, Beverly Hills,
UCLA Extension, Los Angeles,
Institute of Contemporary Art, San Jose,
UCSC's Smith Gallery, Santa Cruz,
Santa Cruz Art League, Santa Cruz,
Mia Kulpa Gallery, Santa Cruz,
Riverside Art Museum, Riverside,
Cherry Art Foundation, Carmel,
Pacific Grove Art Foundation, Pacific Grove,
Pajaro Valley Art Council Gallery, Watsonville.
Awards and Honors
Second award winner: "Exemplary Contemporary", Eloise Pickard Smith Gallery, Univ. of Calif. Santa Cruz, April 16-June 9, 2006.
Distinguish Artist Award: "My California: Views from the Golden State", the National Steinbeck Center, Salinas, March 11-May 28, 2006
Dart Award, Innovative Methods in Engineering Education, USC
Top Scholastic Achievement Medal, Iran
Associations membership
Los Angeles Printmaking Society,
Monterey Bay Plein Air Painters Association,
Monterey Peninsula Fine Art Print Club,
Santa Cruz Art League,
Berkeley Art Center,
Institute of Electrical and Electronic Engineers (IEEE),
American Physics Society (APS),
Association of Computing Machinery (ACM),
American Association for the Advancement of Science,
Society of Photo-Optical Instrumentation Engineers (SPIE),
Sigma Xi Research Honor-Society.